We do have some attacks with guns in the UK. Knives? For sure. Acid attacks? Certainly.
Self-defence is always a formidable argument when talking about guns. Sometimes we think it might be a good idea having guns in British soil (currently is against the law). But after second thoughts is clear that is not the best answer. "Why"? Could you ask.
The answer: British people are extremely violent and poor educated when dealing with self-defence. Some Brits can mock our Americans cousins but if  you have been to America you know how they take guns handling seriously. We have got several issues without guns here in the UK, can you imagine it with guns? Pub fights would be fought with guns.
Well, let's see another case of acid attack. It is NOT a case of self-defence. It is an evil act, however, it shows how people can be cruel if they want and how they will find whatever way to do it if they are committed.
Ex-girlfriend threw acid over man. The man, an engineer who killed himself just over a year after this evil act.
Mark Van Dongen, 29, was left almost unrecognisable after being doused in acid in the early hours of September 23 2015.
His former lover Berlinah Wallace, 48, is accused of creeping in on him while he was asleep and saying 'If I can't have you, no one else can' before throwing the corrosive liquid in his face.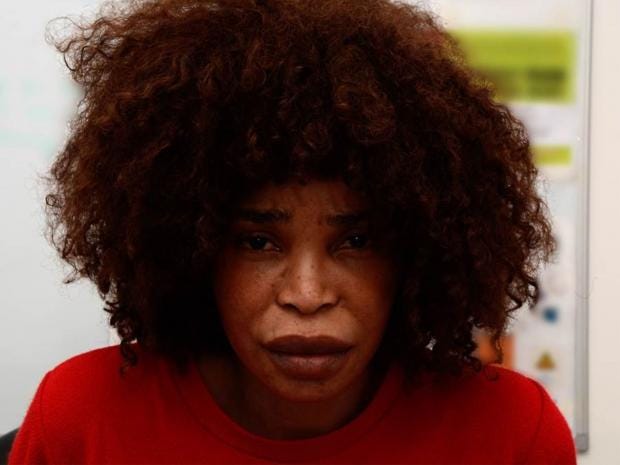 Dutch-born Mr Van Dongen was left blind in one eye, unable to move his body from the neck down and he had to have one of his lower legs amputated.
After 15 months of pain he decided he could no longer take it and died at a euthanasia clinic in Belgium, where his family lived, in January last year.
Wallace, a fashion student, is on trial at Bristol Crown Court for her former partner's murder.
But jurors heard today there are 'two sides to every story' and her defence team claimed Mr Van Dongen had put the acid in a glass so she would drink it.
Adam Vaitilingam QC, prosecuting, told the jury South African national Wallace carried out the alleged attack at her flat in Westbury Park, Bristol.
He said: 'On September 2 2015, the defendant had bought a bottle of sulphuric acid. She kept it in her kitchen.
'At around 3am on September 23, as Mr Van Dongen was sleeping in bed, she took the acid into the bedroom.
'She then went into the bedroom and woke him up.
'She laughed and said 'If I can't have you, no-one else can', and she threw the glass of sulphuric acid into his face.
'It covered his face and parts of his upper body and dripped on to his lower body as he moved about.
'Covered in burning acid, Mr Van Dongen ran out into the street in his boxer shorts, screaming for help.'
A neighbour took him upstairs, put him in a shower and called 999, and he was taken to Southmead Hospital, the court heard.
'The injuries that he suffered were grotesque and horrific.
'His face and much of his body was grotesquely scarred,' the prosecutor added.
'He lost the sight in his left eye and most of the sight in his right eye. He lost his lower left leg, which was amputated.
'He was confined to a hospital bed, for a long time unable to move anything other than his tongue.
'His physical condition improved a little – he regained the power of speech, though never the ability to move.
'But 15 months later, deciding that he could bear it no longer, he asked a euthanasia clinic in Belgium to assist him in taking his own life.
'He was examined by three consultants, who confirmed that this was, in their terms, a case of unbearable physical and psychological suffering despite maximum medical support.
'They agreed the test for euthanasia was met, and on January 2 2017 they inserted a catheter into his heart, which brought about his immediate death.'
Wallace, of Westbury Park, Bristol, denies murder and applying a corrosive fluid with intent.
'It is the prosecution case that the defendant deliberately threw acid at Mr Van Dongen, intending to cause him serious harm,' Mr Vaitilingam added.
'She admits throwing it but denies any intent to cause him harm. She says that she believed that what she was throwing over him was a glass of water.
'It is the prosecution case that the physical and mental suffering that he sustained from that deliberate acid attack were what drove him to euthanasia.
'Put simply, he could not bear to live in that condition. If that is right, we say, then she is guilty of murder.'
Later, the jury were shown harrowing video footage where Mr Van Dongen was interviewed by police in hospital.
He confirmed he shared a rented flat with Wallace where they had lived for five years, and that he arrived at about 6pm when she was there.
Mr Van Dongen told police he had been asleep in bed when Wallace woke him up and said: 'If I can't have you, no-one can.'
He recalled there being a square plastic box with an inch of acid in.
'I was wearing just boxer shorts. She threw acid. I was crying "Help!"
'I was running in the street. Neighbours took me into a house and called police.'
When asked why Wallace threw the acid over him, he said: 'It was because she was jealous.'
Neighbours in Bristol were woken by the noises of a man in distress and went to his aid, not knowing whether it was a prank or someone on drugs.
Thomas Sweet went to assist and said the man was saying something about having acid thrown on him.
'It looked like paint and he was talking about acid. I thought he had taken some acid and had been at a rave and had a bad time.
'He said "I need a shower". Clearly, he was in a bad way.'
Mr Sweet was joined by other neighbours and they took him to a flat for a shower, which happened to be directly above Wallace's home.
'He became distressed and said "She lives there, she lives there". I took that to be the person who potentially attacked him.
'His eyes were very bloodshot. It looked to me like his skin had been bleached. He said "That bitch did it to me" and said it was his ex.
'I informed him the police were coming and he said "They need to be there and she needs to pay".'
Witness Dominic Wooding, who lived in a flat above Berlinah Wallace and Mr Van Dongen, said: 'A man was in his boxer shorts shouting and screaming. He was in agony and his face was grey and he seemed to have difficulty shouting and screaming.'
Mr Wooding's flatmate Ellena Ellcocks told the jury: 'He looked wet or looked like he had been dunked in grey paint or clay.'
Ms Ellcocks said she walked past Wallace's front door, saw it was open and could see the defendant.
'It seemed like she was on the telephone and she was speaking in hushed tones and she said something along the lines of "He abused the situation".'
Another neighbour Nicola White was awoken by screams and went outside to assist, helping Mr Van Dongen into the flat and the shower.
'The water was dropping off him like the man was waterproof and he was standing there with blood shot eyes and screaming in pain.
'He said "I told her I was leaving and she did this to me".'
Wallace, of Ladysmith Road, Westbury Park, Bristol, denies charges of murder on a date between September 22 2015 and January 3 2017 and applying a corrosive fluid with intent on September 23 2015.  She may have been trying to hurt her with it instead, a court heard today.
---
Women Against Feminism UK: People respond to risk and reward algorithms.  Acid attacks are increasing because the penalties are too low in relation to the utility of throwing acid as a weapon.  It could even be argued that as guns have been removed and knives are being restricted people are merely turning to other means of inflicting harm. What an awful thing to do to somebody. How this doesn't count as murder is beyond me.
Actions that were completely planned and premeditated, carried out with malicious intent, a history of abusing her partner leading eventually to insufferable injuries and death. I cannot find the words to express my astonishment at there being no murder charge. This does not help victims of domestic abuse gain any confidence in the judicial system. Quite the opposite in fact.
She will not be punished properly for this horrific crime because she is a woman. The classic vagina pass. Feminist will stay in silence as usual. 
Sickening. This young man died while acid was still burning through his bones. No justice. I feel sorry for the victims family. Senile judges and crazy laws makes a complete joke of our judiciary with stupid prison sentences.